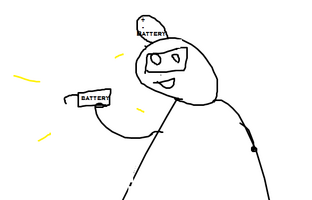 Battery Kid is the main character of the show. He loves batterys and uses them to defeat villains. He appears in a Jane Justice episode titled Jane Justice Meets Battery Kid.
Phrases

none

Real Name: Garrett Adams
Character
Edit
He is a very cool good guy, but sometimes he can get angry. His first mission was to stop his dad, President Adams, to be killed.
Relationships
Edit
April Reid
Edit
His girlfriend is April Reid, and he tries his best to protect her. In the pilot, they ate at a very fancy diner and soon became boyfriend and girlfriend.
He died, but Dr. Greg brought him back alive.
He and April is the only characters that does not have dots in their eyes.